Hi. My name is Aristotle Motii Nandy. Although I am an accountant by training, I worked as a journalist for a couple of years before being led to what I now realise to be my calling – being an educator. I now appreciate the usually overused maxim of being a life-long learner. As an educator, I find myself learning all the time, from my day-to-day interactions with my peers and my students, from parents, from incidents that take place as I travel, from mistakes, basically, at virtually every opportunity possible. In fact, I become more aware or conscious of the learning moments around me.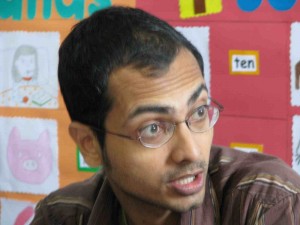 I am especially eternally grateful to Dr. T. D. Singh, my spiritual teacher, who has opened my eyes with the torch of knowledge that there is more to life than the mechanistic paradigm that we have been schooled in. He has led me to the understanding that life comes from life and that a holistic model of education is essential for the progressive development of human society. Only in such a paradigm based on a theistic approach can there be happiness and peace, where children, from a very young age, are allowed to develop according to their ability in order to reach their true and full potential as human beings, with a scientific understanding of their relationship with the Creator.
Also, I am thankful to the teachers in school and at work who have played an important role in my development thus far. There are numerous persons, whom I am unable to mention by name in this post, to whom I am grateful for allowing me to learn or unlearn and grow in the course of our interactions.
Here's a quote by John Ruskin which I'd like to share with you which perfectly expresses what I strongly feel should be seen in our education system today.
"Education does not mean teaching people what they do not know. It means teaching them to behave as they do not behave. It is not teaching the youth shapes of letters and the tricks of numbers, and then leaving them to turn their arithmetic to roguery, and their literature to lust. It means, on the contrary, training them into the perfect exercise and kingly continence of their bodies and souls. It is a painful, continual and difficult work to be done by kindness, by watching, by warning, by precept and by praise, but above all, by example."